Double Happyness Bus Line Shuttered by Feds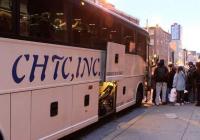 (from Delaware Online)
The U.S. Department of Transportation has ordered a bus line that travels from Wilmington, Delaware to New York City shut down.
Double Happyness Travel Inc., based in Huntingdon Valley, Pa., was declared an "imminent hazard" to public safety and ordered to cease all passenger service.
The government review found multiple violations of rules regarding vehicle maintenance, alcohol and controlled-substance testing and driver hours.
The bus line has been serving Albany, N.Y., New York City, Wilmington and Baltimore.
"Safety is our highest priority," said Transportation Secretary Ray LaHood. "During this busy holiday travel season, we will remain vigilant in our efforts to protect bus passengers and all motorists from unsafe bus companies."
The order, issued Friday, said the bus line had "a management philosophy indifferent to motor carrier safety."
According to the order, the company employed two drivers before receiving their failed pre-employment controlled-substance screenings; repeatedly filed false reports detailing the hours drivers had worked; failed to regularly inspect and maintain its buses; and failed to keep current on its employees' driving records.
On Wednesday, buses were still picking up passengers at a bus station at 3 W. Fourth St. in downtown Wilmington, with a storefront marked Double Happiness Travel. A small sign in the corner of the window read Double Happyness Travel. It sold tickets to a bus station in Chinatown in New York City.
Two buses that pulled up at the station on Wednesday afternoon were registered to other carriers. One of them, Rockledge Bus Tour Inc., had been cited by the Department of Transportation within the last year for fatigued driving.
Workers at the site said they were unaware of the shutdown order.
An unidentified person who answered the phone at Double Happyness headquarters in Huntingdon Valley said its own buses had been shut down and the company had chartered other buses, before hanging up.