Obama Signs Highway Safety Act, Drivers to Target Fatigue
Father who lost son in bus crash is pleased with new law that requires seat belts on buses
Published: Sunday, July 08, 2012, 3:15 PM Updated:
Sunday, July 08, 2012, 6:30 PM
By Donna J. Miller, Plain Dealer reporter
John Betts speaks about the new federal law that requires all new buses to have seat belts and other safety features that might have saved his son's life. Photo by Beth Thames.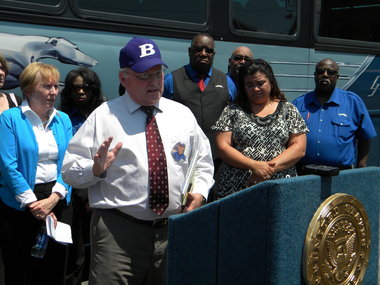 CLEVELAND, Ohio — John Betts, still feels the pain of losing his 20-year-old son in a charter bus crash five years ago, but now he also feels satisfaction.
Lives will be saved by the Motorcoach Enhanced Safety Act of 2011 that was signed into law Friday, he said today outside the Greyhound bus station on Chester Avenue in Cleveland.
"The pain isn't going to go away. Our son is still dead," Betts said, "but others won't die or be severely injured."
Betts began pushing for legislation to enhance bus safety soon after the March 2, 2007, crash that killed his son and four other members of Bluffton University's baseball team, the driver and his wife, when the driver mistook an exit ramp for another lane and drove off a bridge over Interstate 75 in Georgia.
David Betts, a sophomore, was killed when the bus, which was not equipped with shoulder harnesses, rolled over. Only the front few seats were equipped with lap belts. John Betts, of Bryan, in northwest Ohio, vowed at his son's funeral that some good would come from the tragedy.
Sen. Sherrod Brown stood with Betts and bus drivers at the Greyhound station to mark the passage of the bill, which Brown and a Texas Republican first introduced nearly five years ago.
Sen. Sherrod Brown co-sponsored the bill that requires seat belts and other safety features on tour buses. He discussed the new law at a news conference today at the Greyhound Bus Station on Chester Avenue. Photo by Beth Thames.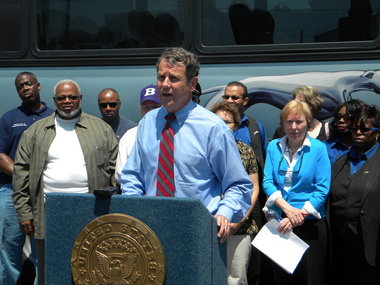 The law requires that all new buses be equipped with seat belts and harnesses, strong seats, windows that prevent passenger ejection, crush-resistant roofs, flame-resistant interiors and electronic recorders that track bus locations and hours of operation and capture crash data.
It also requires enhanced driver training, physical exams of drivers done by medical professionals, enhanced bus inspections and safety audits.
Existing buses will not be retrofitted, but Brown and Betts both said they expect that public demand will force bus operators to upgrade as competitors begin touting their safety features.
Jackie Gillan, president of Advocates for Highway and Auto Safety, also spoke in support of the new law. She said the safety measures, "which we take for granted in our cars," will cost passengers about 10 cents a trip and save tax dollars by reducing the costs of crashes.
Greyhound began voluntarily adding safety features and seat belts to its buses in 2009 and announced its support of the legislation last summer.
The National Transportation Safety Board found that the Georgia crash was caused by driver error and inadequate highway signs. And the board said the lack of passenger protection systems was a factor in the deaths and injuries -- 10 people were thrown out of windows and two were partially ejected.
The safety board first recommended that seat belts be required on all buses in 1968.
---