City Hall - Stop Lying and Put Our Kids Safety 1st!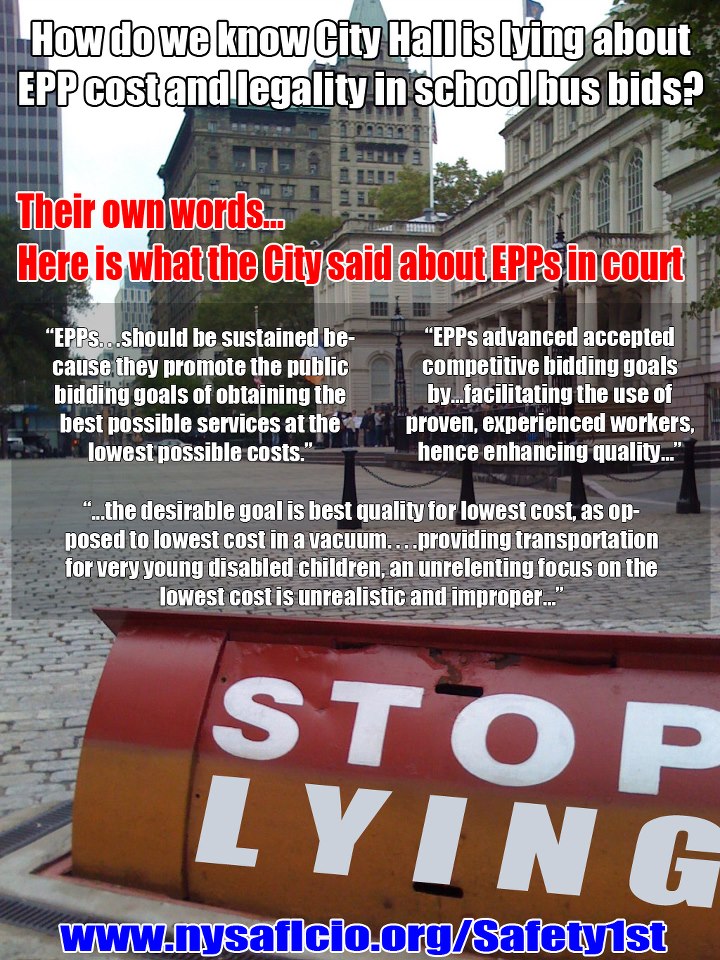 The City is lying to you about the cost and legality of the Employee Protection Provision (EEP), and is putting your child's safety at risk. Here's why:
•The EPP guarantees experienced school bus crews are behind the wheel of your child's school bus.
•The EPP is directly linked to safety, and was designed to create a steady, experienced work force. In fact, the City argued in court that:
"EPPs advanced accepted competitive bidding goals by…facilitating the use of proven, experienced workers, hence enhancing quality…"
•This bid solely targets special education children – children who require the experience that an EPP guarantees. In fact, the City argued in court that:
"...the desirable goal is best quality for lowest cost, as opposed to lowest cost in a vacuum. . . .providing transportation for very young disabled children, an unrelenting focus on the lowest cost is unrealistic and improper…"
•The EPP has nothing to do with cost. In fact, the City argued in court that:
"EPPs. . .should be sustained because they promote the public bidding goals of obtaining the best possible services at the lowest possible costs."
•The EPP is not illegal. The City is hiding behind an unrelated Court of Appeals decision that does not apply to special education children. There has never been a court decision that has decided the legality of the use of the EPP when addressing the needs of special education children, and general education children.
ATU Local 1181 supports a competitive bidding process. In fact, we welcome it, but we urge Mayor Bloomberg and Chancellor Walcott to consider the safety of New York City school children by recognizing the importance of the EPP, and the safe experienced work force it creates.
Sign the petition at www.nysaflcio.org/safety1st and text "Safety1st" to 87787