Greyhound's 100th Anniversary: A Century of Abusing Employees, Passengers and Our Communities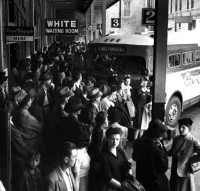 Employer Unions, Bullying, Terminal Workers, Bloody Highways
The first-ever unfair labor practice charge filed with the NLRB was decided on Dec. 7, 1935, when it ordered Greyhound to cease and desist from firing workers who joined the ATU and from sponsoring a rival employee association. Read more...
The company has stooped low and lower to stop ATU from representing terminal workers. In 1964, the Supreme Court voted 8-1 to uphold an NLRB order that Greyhound hold a union election at four Florida terminals where it subcontracted services. In 1986, thousands of workers lost their pensions and benefits when Greyhound contracted-out service across the country. Read NLRB vs. Greyhound
Attacks on employees turned deadly during 1983 and 1990 strikes. In the first, a strikebreaker killed striker Ray Phillips on a picket line in Zanesville, Ohio. Nine years later, a scab driver ran over Robert Waterhouse in Redding, California.
Overcrowded Vehicles, Predatory Behavior, Cutting the Grid
Founder Carl Wickman started the company as a shuttle for Minnesota iron miners between Hibbing and Alice, a town two miles away known for its saloons. Realizing that most miners couldn't afford their own vehicles, Wickman would cram 15 passengers into his 8-seat Hupmobile and charge each 15¢ a ride. 100 Years on a Dirty Dog
In 1974, the Supreme Court found Greyhound guilty of criminal contempt and predatory business practices against Oregon's Mt. Hood Stages. The company kept its smaller regional competitor – and bus riders – tied up in the courts for more than 20 years. Read US vs. Greyhound.
After becoming a near-monopoly in interstate bus service, Greyhound began cutting towns – then entire states – from the transportation grid, dropping from 5,851 locations in 1977 to only 2,300 locations today. Read 2005 DOT Study.
Racial Segregation, Mexican Buses, Age Discrimination
Greyhound propped up racial segregation across the South. The company now wraps itself in the glow of the Freedom Riders, but it was one of the villains in 1946, when the U.S. Supreme Court desegregated buses in Morgan v. Virginia, and in 1960, when the Court ordered bus terminals integrated in Boynton v. Virginia.
Beginning in the 1980s, Greyhound created a second-class category of bus service for Latino passengers across the Southwest. The company only agreed to phase out its Americanos and Crucero lines in 2013.
In 1973, the U.S. Labor Dept. accused Greyhound of age discrimination for setting 35 as the age limit for people to apply as drivers. The U.S. District Court upheld the ruling the next year, but the U.S. Court of Appeals overturned the decision in 1975. See Hodgson vs. Greyhound Lines, Inc.
For more information, contact Steve Weingarten at (626) 675-2156. Links to substantiating legal rulings and news stories are available online at ATU1700.ORG