Local 1700 Supports Chicago Teachers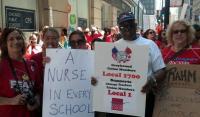 ATU International President Larry Hanley issued this statement in support of Chicago teachers:
"The ATU pledges our solidarity and full support for the striking Chicago teachers in their struggle.
"Transit workers know all too well how Chicago Mayor Rahm Emanuel has attacked hard working public employees when he wrongly blamed Chicago Transit Authority workers for the agency's fiscal problems.
"It's time for the mayor to return to the principles of the Democratic Party and work with the teachers – not against them.
"No true Democrat can sit idly by and not voice an objection to the mayor's anti-union actions. This struggle is a true test for the Democratic party and its leadership to stand on the side of workers and for children."