BRING IT TO DALLAS MAY 22!!!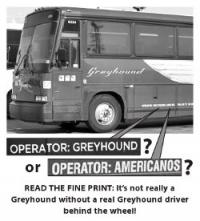 Greyhound has escalated its war against drivers by directly replacing Dallas and San Antonio drivers with Americanos drivers on some schedules in Texas. Greyhound drivers with decades of seniority have lost their runs and some have no option but to work the extraboard. The company has left us no choice but to escalate our fight back.
Local 1700 members have been picketing the Dallas, Houston and San Antonio terminals, and we have filed charges with the NLRB. Now we must show up in force at Greyhound's headquarters and let them know exactly how we feel.
On May 22, at 10:00 am we will gather at the Greyhound terminal in Dallas to let Greyhound management and the riding public know that we will resist Greyhound's "bait and switch" scam until the company comes to its senses. Greyhound must stop selling Greyhound tickets on Greyhound schedules using Greyhound buses that are being driven by non-Greyhound drivers.
Following the rally at the bus terminal we will march through downtown Dallas to Greyhound's headquarters on North St. Paul Street. Then Local 1700 members will meet to discuss plans for ratcheting up our fight to win back our jobs. We'll also discuss plans for expanding our over-the-road safety campaign, and – most importantly – we'll hold a kick-off meeting and workshop on planning ATU-COPE activities leading up to the November elections.
Our COPE activities are most important because if we don't change the nation's politics to benefit working people instead of banks, all our other battles will all be for nothing.