Members Elect McCoy, Seasoned Exec Board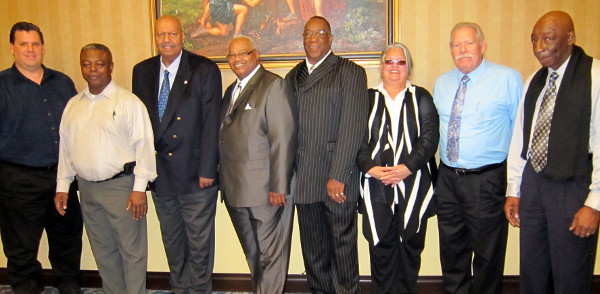 ATU Local 1700 members have chosen a new president, reelected several officers and filled two open seats on the Executive Board from a large field of candidates. President Jimmie McCoy and the other winners were given the oath of office by ATU International Vice President Bruce Hamilton at the Dec. 17 Executive Board meeting.
"This vote was a strong message to stay the course," McCoy said. "It's clear that members want experienced hands on the steering wheel, and the core of this Executive Board has been leading the effort to rebuild Local 1700."
McCoy, Sesil Rubain and James Kennedy have served on the Executive Board for the past nine years, and Bill Wright previously led Region 5. Sammie Howard was Chief Steward in Atlanta before being appointed head of Region 2 last year. Herman Green was Chief Steward in Cleveland, and Sindy Vasquez has been a highly visible steward in Los Angeles. Mark Clark has represented mechanics on the Board since 1997.
The election took an unusual twist the day after the votes were counted, when the Post Office discovered a tray of 100 ballots. The Election Committee counted the additional votes on Jan. 7, and all the outcomes remained the same. "The Post Office slipped up and we handled it in the fairest way possible," said Committee Chair Elmer Taylor.
Serving on the Election Committee with Taylor, who is based in Philadelphia, were Chris Marshall of Sacramento and Willie Glover of Jacksonville. The committee certified 2,903 eligible voters and counted a total of 1,045 ballots.