Jimmie McCoy Takes Wheel of Region 3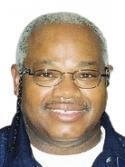 Since taking office in March, Region 3 Vice President Jimmie McCoy has been organizing the late Ron Jordan's union files (some going back to the 1970s), working his way through the stack of papers, and learning a lot about what members expect from the union.
"I try to be honest with people about their rights in the workplace. A lot of people don't understand the contract, and they don't understand that they are the union. I'm only as strong as they make me," the Cleveland-based McCoy said. "When we work together, we can move a mountain."
McCoy is gearing up for the political season. Last year, he organized caravans of Local 1700 members to state capitals in Wisconsin and Ohio to defend unions against attacks by governors Scott Walker and John Kasich. Region 3 extends from Montreal west to Kansas City, and from Minneapolis south to Memphis.
"The Walkers and Kasiches are out to destroy everything that unions have built. We've got to do all we can to defend working families," he said.
McCoy has been driving for Grey- hound since 1979. Two years later he became a union steward (then known as a driver's representative). For the past eight years he has served as Executive Vice President.