TELL US ABOUT YOUR SUPERVISOR!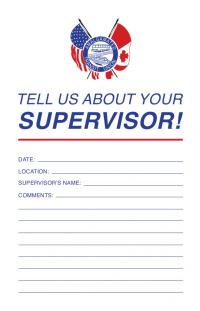 The Company has launched another survey called, "tell us about your driver". Please know that the Union is NOT in agreement at all with their survey.
As the Company is interested in comments about us the driver....the Union is requesting your feedback in.....
"TELL US ABOUT YOUR SUPERVISOR!" The supervisor can be the "intimidating" local manager, the rude dispatcher in OSC or the antagonizing person in OEAD.
Simply fill out the survey card, return it to the Shop Steward or the Regional VP. All survey's should be forwarded to the office of the President.
Happy Holidays and be SAFE!
Karen Miller/President